Day 72:
We left the caravan a few days ago. On the day before we left, Dahmar, the caravan master took our payment (he didn't just let us ride for free, though if there had been any sort of trouble that required our expertise, we might have), and asked if I "wold like to see his last line of defense," because he felt sure that I "would appreciate such a measure more than most."We had become friendly during the travel, and as always, I made the nature of our excursion well-known to everyone, so I figured he was trying to solicit some advice on anti-dragon measures now that he had our money, but I didn't mind.
He took me to his own wagon, past the usual guard, and bade me bide awhile as he undid some locks and muttered a few charms, all standard stuff. Then, he let me in.
Sleeping atop of a small pile of chests and strongboxes was a Blue-backed Tholtuk. The little dragon woke and regarded us sleepily as Dahmar beamed, saying "Even if they kill all the guards, Thrix here will finish them off!"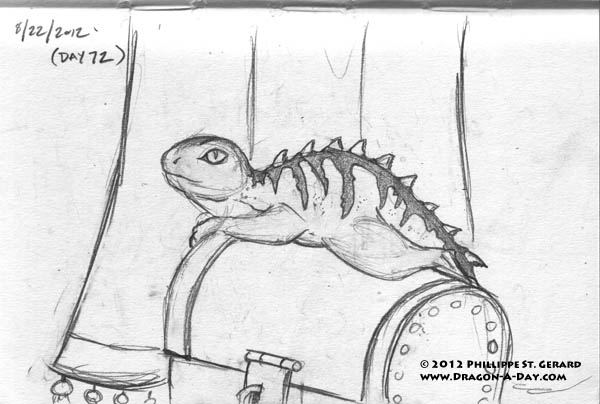 I pause here to make a note as to why this is important: All the dragons of the Tholtuk bloodline are venomous, and in more than a few cases, poisonous, but the Blue-backed is especially dangerous, considering its size. Unlike the others of its kind, the Blue-backed Tholtuk can actually spit a stream of venomous saliva at its foes; the caustic material causes paralysis and death with alarming rapidity; mere drops against unprotected skin, or even soaking through a brocade can still be deadly. The Tholtuk are known t-
I must pause again, as Flimbert demands that I amend that to "The Tholtuk are supercilious, self-aggrandizing bastards that should never have been allowed to crawl sidewise out of some ill-laid egg," but I would like to point out that that is a semi-professional opinion based on personal experience.
As I was saying, the Tholtuk are known to occasionally take tribute from those they can bully or intimidate, but since their greatest danger (with an obvious exception) lies in letting one of them bite, their bargaining power is not as great as other dragons' might be. It seemed impolite to ask in front of the dragon, so I nodded and mumbled something I hope was not offensive to try and cover my stunned state, but Dahmar, shrewd man that he is, saw through it, and I tried lamely to explain why I had been so taken aback.
This was apparently what he (or they) had been waiting for- Dahmar had actually saved Thrix from being eaten while still in-egg (and undoubtedly the hapless git who planned to eat said egg, but that is neither here nor there at the moment), and raised him, gingerly from a hatchling. He had not realized what he had bought when he purchased the egg, but he knew that it was something out of the ordinary. He had come across the egg in a bazaar, and simply outbid the other fellow when he heard that the egg had been stolen from a dragon's nest. Only luck kept him from getting fatally poisoned by the little one when they were first getting acquainted, though he insists that he is mostly, if not completely inoculated against Thrix' venom by now…