"At that time God will unsheathe his sword, his merciless, massive, mighty sword. He'll punish the serpent Leviathan as it flees, the serpent Leviathan thrashing in flight. He'll kill that old dragon that lives in the sea."
Isaiah 27:1, The Message
"No one is so fierce as to dare to stir it up. Who can stand before it?  Who can confront it and be safe? -under the whole heaven, who? " Job 41:10-11 NSRV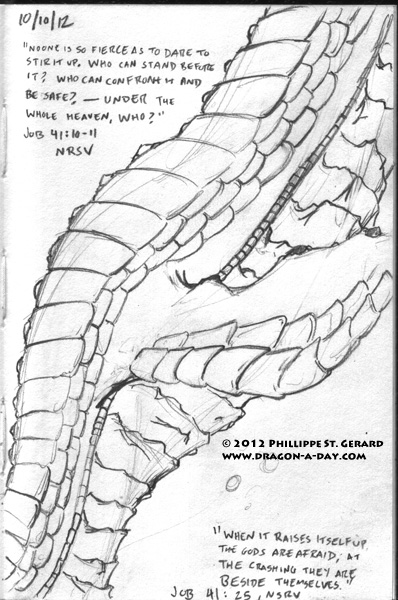 "When it raises itself up the gods are afraid; at the crashing they are beside themselves." Job 41:25, NSRV
"His heart is as firm as a stone; yea, as hard as a piece of the nether millstone." Job 41:24, KJV
You might notice that I tweaked my Leviathan's dorsal scales and ventral armor more than a little bit, as well as dulling his claws, because, really, why would he need claws? After reading and rereading the Book of Job (really, just 41), it became fairly obvious that Leviathan's strength is in his bigness- he doesn't need to rip things apart or even bite them; just by virtue of his size he is immensely strong and durable. Oh yeah, and he breathes fire.
The dorsal scales are layered, like the rows of shields that they're compared to, and the underbelly armor is nested, with some give for when the serpent twists, but mostly supposed to be jagged and irregular with a lot of texture, like the "potsherds" that they are described as.
I also toned down the eye-fire, though I'm not sure if I like it or not. On the whole, though, I'm very satisfied with this year's Leviathan.