So while watching Magnum P.I. on Netflix, the girlfriend turns to me and asks if I'd ever drawn a dragon with a mustache.
Then she asked if I had drawn my dragon with a mustache.
She was sure that somewhere amidst all the dragons, there was a regularly appearing dragon out there who had a mustache. Many of the Lung dragons have mustaches, but not all of them, so I was a bit stumped. Finally, I went back to the beginning of the (surprisingly sparse) mustache tag and showed her the one who started the trend, and she felt that he should become one of the regulars, because
"We need an aristocratic dragon, damnit!"
so this happened: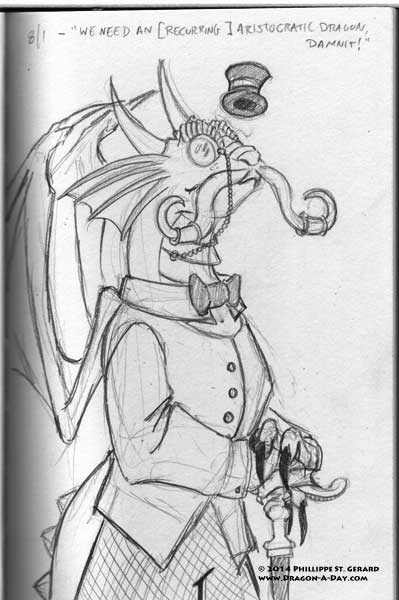 I feel like he could be dressed a bit fancier, and I'm not entirely sure about the hands. Or the clothing, for that matter, but we'll handwave it for now (and probably for later too). The hat does indeed float above his head, ala Mayor Mayor from the Powerpuff Girls.
I've done some fanciness in my time, but I'll have to attain a new level of refinement in order to do this up right. Stay tuned.