At first I was going to do something on "cold calling," with the Blizzard Dragon on an old-timey phone because it's really cold here in Brooklyn, but I didn't want to dwell on Looking For A Job too much, and it was funnier in my head than it was turning out on paper.
Then I started on that "Brothers of Destruction" image that I had wanted to do awhile back when I first came up with the Wildfire Dragon, mostly because I had the Blizzard Dragon on my mind. But I still didn't think it out that well, so there wasn't enough room for the Earthquake Dragon at all (without a long neck, it needs to cram its head and shoulders into the composition, where the others can just sort of lean in/loom over it), and the Plague Dragon seemed to be sticking its head in the frame goofily, instead of looking badass.
SO, here is a half-formed composition with a working title of "Fire and Ice," because I need to go to bed (as usual). I took the Plague Dragon out at the end, because I was just doing a Bad Drawing, because of multitasking and fatigue. I'm not thrilled with the Wildfire Dragon's head either; I need to standardize it a bit more, methinks.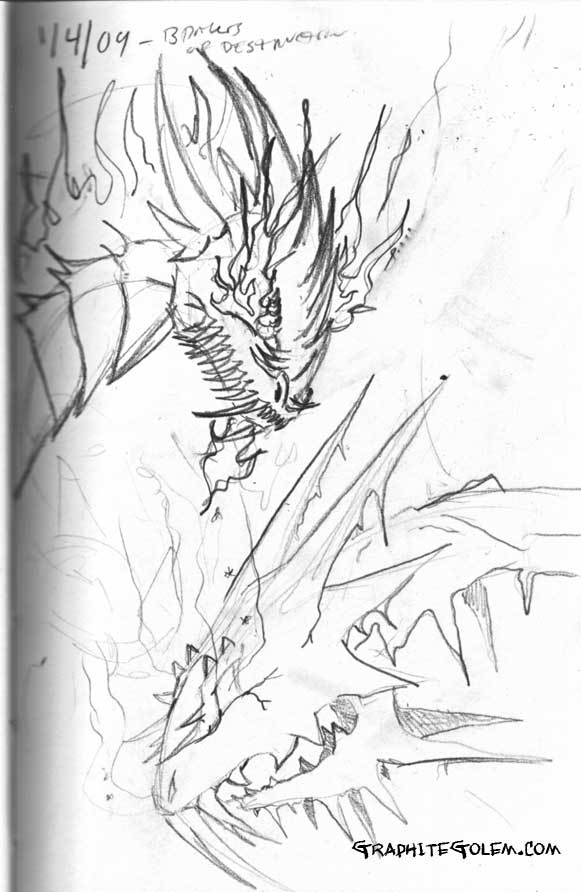 I do want to do a "family photo" of the Catastrophic Dragons; I just have no real idea how I will pull it off. I probably need to give myself some lead time.