So I don't have Internet again. Sigh.
Anyhow, I (finally) saw that Sesame Street exhibit, and at the end of the day, I was wrung out. I was falling asleep in my chair as I drew this, which, while reflective of personal events, is a new creature in its own right: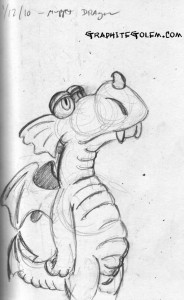 I was strangely reminded fo the short-lived puppet-based sitcom, Scorch (featuring
Ronn Lucas
, who as it turns out, went on to be fairly successful) while working on this.